Technivorm Moccamaster Coffee Makers - Behmor Roasters

We are one of the largest US dealers of Technivorm coffee brewers and prominent dealers of the Behmor coffee roaster and Brazen Plus brewer.
Technivorm: Most Technivorm models are in currently stock and shipping. These include all of the top rated thermal brewers such as the Technivorm Moccamaster KBGT-741, the smaller 1 liter KBTS as well as the KBT-741, KBT-741 in black and round Technivorm Moccamaster CDGT.As well as glass carafe models KBG-741 and KB-741. Cook's Illustrated rated the KBGT-741 as best coffeemaker and we have ample supply to fill demand. Cook's Illustrated recognized us as 'where to buy' the KBT-741 in its earlier roundup of brewers. We sell Technivorms for the lowest prices and throw in free shipping and other goodies including free coffee, paper filters and more. See our instructional video. We guarantee the best Technivorm deals on the internet. Check out the Bonavita 8 cup Thermal Coffeemaker which has joined Technivorm as one of four brands which have received approval from the Specialty Coffee Association.Cook's Illustrated rated the Bonavita thermal as its 'value' buy.
Behmor 1600 Plus - We think our Behmor 1600 Plus Coffee Roaster offer is the best around and it just got better! With FREE SHIPPING in the continental US, our offer includes 8 pounds of green coffee and a coupon good on your next purchase from us. If you live in Hawaii, Alaska or Canada we will provide $20 shipping discount. All Behmors ship with all the latest enhancements. We have a video providing an overview of the Behmor, available on the Behmor page.
New Arrivals:
Keep an eye on our New Arrivals section for a listing of the latest coffees. That's the first place you will see them.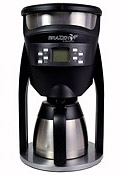 Brazen Plus Coffee Brew System
The revolutionary Brazen Plus Coffee Brewer allows you to set your own brew temperature, calibrate for altitude, set pre-soak time or be as simple as you wish. It brews a great cup of coffee. The newest Plus release has added more features and reliability - new lower price of $159 includes free shipping, coffee and more. The Brazen Plus has joined just a handul of brewers achieving SCAA certification.
Hario & Kalita
Please see our Hario-Kalita category for the best in manual coffee making equipment and supplies. We have an extensive assortment of the drip cones, filters, kettles and manual coffee mills.
Customer Testimonials
I'm sure glad (after ten years of home-roasting) that you guys have come on the scene. You're offering up some really prime jewels that can't be found anywhere else."

DL - Indianapolis, IN
In my daily work I deal with many vendors large and small, and it's a great pleasure to find a business that exhibits integrity, service and quality, things that have become rare today."

MW - Peterborough, NH
Thank you very much for the prompt service, it speaks highly of you and your company. I am pleased that we chose your company through which to make our purchase!

EP - Port Orchard, WA